Emergency Winter Fuel Assistance
From September to April, all forms of fuel assistance for anyone who needs to ask for this helping hand (as funds permit).
Call Mary at 568-2783
Our little community is so special, even for all of New Hampshire. In the New England-led tradition, our families teach their children by doing.
If a neighbor is elderly, or medically has trouble getting around, then someone just steps forth to shovel a walkway, sand some steps, or plow a driveway.
If a neighbor is exhausted from day-in and day-out caring for a loved one, then someone steps forward to run errands, or get groceries or walk pets.
If a neighbor's pipes break, causing flooding in the house, you loan a sump pump if you can, if not offer them shelter.
About 12 years ago when friends found it almost impossible to keep up with rising costs of fuel, the Contoocook Carry Fund, through its Triathlon (www.contoocookcarry.org) and generous donations from residents and businesses was able to give oil, propane, kerosene and wood.
To supplement this effort,  the Congoran family also started the Sean Powers Wood Bank in 2008 (www.woodforwarmth.org). Since its inception,  each November great numbers of men, women and youngsters just magically appear to cut, split and stack firewood for their neighbors for emergencies.   Others come with trucks to take the wood  out to many in the community , giving them a head start in facing the harsh conditions of our New Hampshire winters.
That day (first Saturday after Veterans Day) will always remain a blessing, as much for those who are involved with the preparation and giving of the wood, as it is for those who are the happy recipients.
---
Our Volunteer Board Members
Tom Congoran, President
Chris Lawless, Treasurer
Joyce Rose, Secretary
Amy Metcalf
Heather Mitchell
Pete Mosseau
Mary MacHarg Congoran, Director of Activities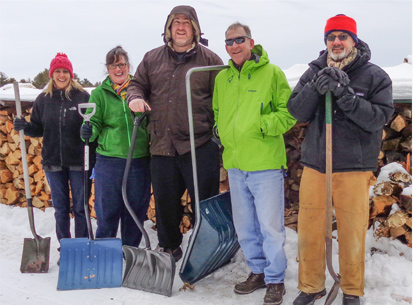 None of our neighbors should have to choose between purchasing medicine, buying sufficient food, or keeping their aging parents, or their children warm.
It is incumbent upon all of us to care for those who need our help.
A Community Working Together to
Meet the Winter Needs of Many
Considering A Donation?
Thank you for giving to our community
Considering A Sponsorship?
Please call Mary at 568-2783
Thank you for giving to our community
Volunteer Day at the Sean Powers Wood Bank is
Saturday, Nov. 14, 2020, starting at 9am
The Contoocook Carry Community Fund is dedicated to providing:

And emergency wood from the Sean Powers Wood Bank.
Contact Mary at 568-2783
We will confidentially do our very best to help with fuel needs,
emergency wood access and some furnace repair, if resources permit.
---
OTHER ASSISTANCE RESOURCES
The Community Action Program (CAP) in Warner – 456-2207
Federal Fuel Assistance Program—one monetary grant per household to go to vendor for fuel assistance.
Help with fuel bills
Help with furnace repairs
Help with housing and electric concerns
Many other services
Hopkinton Human Services call Marilyn Bresaw – 746-3170
Help from the town Welfare Heating Assistance Fund
Direction and help with other issues
Help with housing and electric concerns
Emergency help from wood bank