Giving & Receiving…
…are flip sides of the same coin. At any moment, any one of us could need help from a neighbor who we've just befriended. The Contoocook Carry Community Fund is only able to help our neighbors because of the exceptional generosity of this community, both with hands-on donations and with financial gifts. Over these many years, donations have enabled the Contoocook Carry Fund to assist many with a winter boost of oil, propane, kerosene, cordwood, electricity and wood pellets.
Thank you to all the businesses and civic groups for their support for the upcoming 2019-20 heating season.
(Please join these kind donors. New gifts welcomed.)
Advantage Signs, Inc.
Apple Tree Animal Hospital
Ayer & Goss
Cilley Veterinary Clinic
Cowan & Zellers
Dimitri's Pizza and Restaurant
Excalibur Shelving Systems, Inc.
F.A. Bartlett Tree Experts Co.
Foster Materials, Inc.
Henniker Sand & Gravel Co.
Hopkinton Forestry & Land Clearing, Inc.
Hopkinton Lions Club
Hopkinton Woman's Club
H.R. Clough, Inc.
June Wallace Bookkeeping Service
Knoxland Equipment
Lakehouse Tavern
Marklin Candle Co., Inc.
Merrimack County Savings Bank
Metzger/McGuire
MicroDAQ
Pleasant View Gardens, Inc.
Richard Schoch Plumbing & Heating
Stockwell Physical Therapy
StoneFalls Gardens
The Every Day Café
The Yard Fixer
Weaver Brothers Construction Co., Inc.
YBP Library Services
Yestramski Electrical Services, Inc.
Considering A Sponsorship?
Please call Mary at 568-2783
Thank you for giving to our community
Thank you to all our friends for giving support to their neighbors.
(Please join these kind donors. New gifts welcomed.)
Gordon & Judith Avron
Thomas & Karen Berry
Ronald Bisson
Bruce & Betty Cayer
Nancy Calder
Anne Chehade
Anthony & Marilyn Clough
Jonathan Cohen
Robert & Juliana Dapice
David & Lorraine Feller
Varel Freeman
Peter Gould
Rose Gould & Robert Queeney
Emily Gula & Elijah Sproles
Elizabeth Hall & Theodore Austin
Shirley & Richard Hesse
Melissa & William Jones
Dorothy & Walter Kirsch
Sylvia Hoyt
Greg & Lynn Hughan
Margaret Kimball
Sandra Martin
Alyssa McKeon
Courtney Peacock
Brentnal & Wendy Powell
Adrienne & William Russell
Carol & Jeffry Schapira
James & Iris Sindelar
Thomas & Myra Slocum
James & Amy Stone
Noreen & Edmund Waters
Donald & Rebecca Weaver
James Wheat
Considering A Donation?
Please consider joining our businesses and civic groups and families with your tax-deductable donation.
Thank you for giving to our community
Thank You to All Our Neighbors
during our past winter seasons
We would like to thank you for your tax-deductible donations, your wood contributions, your volunteerism, and sharing our passion to help bring some measure of warmth to many who could become overwhelmed during our winter months. All of us know friends or relatives faced with unforeseen crises or events that turn their lives upside down. Additionally, keeping a loved one, an invalid family member, our children, ourselves and our pets minimally warm, both day and night during our brutal winter weather, can discourage even the most self-reliant.
We are all so fortunate to live in this small New Hampshire town. You, and so many friends, know that the warmth you provide for your neighbors today, will surely return ten-fold to you in the future. Our Fund will also work with our churches, our Town's Human Services Fuel Assistance Program and other organizations to wrap everyone in our warm, community quilt.
Thank you again for your kindness!
We are also proud and astonished at the number of men, women and youngsters (and a few dogs), who in November join us at the Sean Powers Wood Bank to prepare the wood donations for deliveries into the community.
Additionally, neighbors work hard that day creating stacks of cordwood to be accessed by anyone who might need some emergency wood to keep themselves and their family warm throughout the bitterest winter weather.
Again, any of us could need a boost, at any time. Many who have received wood in the past, come out in November to prepare the cords which will help other friends and neighbors.
Others in the community, in keeping an eye out for their neighbors, know who might need some help cutting, splitting or stacking wood. That neighborly eye also notices, in the coldest weather, whose chimney has no evidence of smoke….and steps in to leave a bundle.
This is Truly an Amazing Community.
See more pictures here.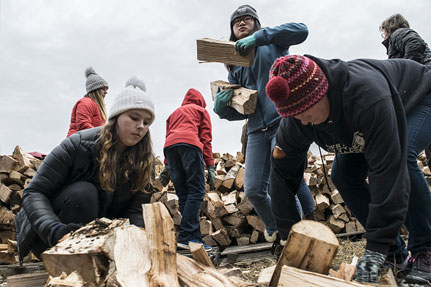 To Receive…
…a needed boost of fuel, or specifically, some firewood, call Mary at 568-2783 or if you feel more comfortable, you can call Hopkinton's Human Services or any of our five churches.
How can you help?
If you have some hardwood to donate….try to get the logs to lengths that can be thrown into the back of a pickup and ultimately taken to the wood bank. They do not need to be prepared for firewood lengths. For questions, call Mary at 568-2783.
www.woodforwarmth.org.
Keep a watchful eye out in your general neighborhood for those elderly, medically challenged or caregivers who are overburdened or overwhelmed. Is there smoke coming out of their chimney? Is there a path cleared from their door to their vehicle? Do they need an errand run? Are they able to stay warm in their house?
Thank you to All….for the Many Ways of Giving to Friends and Neighbors.