Giving & Receiving…
…are flip sides of the same coin. At any moment, any one of us could need help from a neighbor who we've just befriended. The Contoocook Carry Community Fund is only able to help our neighbors because of the exceptional generosity of this community, both with hands-on donations and with financial gifts. Over these many years, donations have enabled the Contoocook Carry Fund to assist many with a winter boost of oil, propane, kerosene, cordwood, electricity and wood pellets.
Thank you to all the businesses and civic groups for their support for the upcoming 2019-20 heating season.
(Please join these kind donors. New gifts welcomed.)
Advantage Signs, Inc.
Apple Tree Animal Hospital
Ayer & Goss
Cilley Veterinary Clinic
Cowan & Zellers
Dimitri's Pizza and Restaurant
Excalibur Shelving Systems, Inc.
F.A. Bartlett Tree Experts Co.
Foster Materials, Inc.
Henniker Sand & Gravel Co.
Hopkinton Forestry & Land Clearing, Inc.
Hopkinton Lions Club
Hopkinton Woman's Club
H.R. Clough, Inc.
June Wallace Bookkeeping Service
Knoxland Equipment
Lakehouse Tavern
Marklin Candle Co., Inc.
Merrimack County Savings Bank
Metzger/McGuire
MicroDAQ
Pleasant View Gardens, Inc.
Richard Schoch Plumbing & Heating
Stockwell Physical Therapy
StoneFalls Gardens
The Every Day Café
The Yard Fixer
Weaver Brothers Construction Co., Inc.
YBP Library Services
Yestramski Electrical Services, Inc.
Considering A Sponsorship?
Please call Mary at 568-2783
Thank you for giving to our community
Thank you to all our friends for giving support to their neighbors.
(Please join these kind donors. New gifts welcomed.)
Susan S. Arms
Gordon & Judith Avron
Frida J. Backe
Thomas & Karen Berry
Michelle & Brian Bickford
Ronald Bisson
Amanda Bligh
Robert Boon
Sharon Boyle
Rebecca & Fred Bricetti
Nancy & William Brown
Jean Buck
Nancy Calder
Chris & Mary Carter
Bruce & Betty Cayer
Steven Chamberlin
Michelle & Samuel Chase
Anne Chehade
Ruth Chevion
Davis & Sandra Clark
Nancy Clark
Jonathan & Diane Clarner
Anthony & Marilyn Clough
Jonathan Cohen
Contoocook NH VFW Post 11490
Charles Crathern
Titus & Dominique Cramer
Stephen Crawford & Kelly Heitz
Richard & Diane Crichton
Robert & Juliana Dapice
Joanne P. Debold
Richard Desmarais
Janet & George DeVito
Jeff & Kathleen Donohoe
Shannon Donahue
Roland Dubois & Carol Hooper
Lynn Durand & Jane Sullivan-Durand
Carol Duston
Natalie Duval & Charles Spalding
Richard Eichhorn & Beth Sargent
Bruce & Gail Ellsworth
Ronald Emery
Douglas & Rebecca Ewing
Eileen Fagan
David & Lorraine Feller
Thomas & Nancy Fellows
Mark A. Fenske
Varel Freeman
Kerry Freitas
Virginia & Jack Friberg
Alexis Garcia
Denis Goddard
Peter Gould
Rose Gould & Robert Queeney
Beverly Grenert
Emily Gula & Elijah Sproles
Elizabeth Hall & Theodore Austin
Nancy Heck
Tom & Peggy Herbert
Shirley & Richard Hesse
Efner Holmes
Christine & Garrett Hoyt
Sylvia Hoyt
Greg & Lynn Hughan
Charles & Donna Ireland
Deborah Jasak>
Laura Jennings
Irene Johnson
Melissa & William Jones
Anya Kattef
Margaret Kimball
Dorothy & Walter Kirsch
Angela Klingler
Lynn & Charles Koontz
Robert & Jane LaPree
Mary Leadbeater & Michael Strack
Susan & Erick Leadbeater
Peter Lighthall
Richard Lugg & Ruth Fischer
John & Cynthia Madden
Katy Magoon
Kimberly Mark
Martin & Christine Marklin
Amy & James Martin
Sandra Martin
Suzanne Martin
Travis Martin
Joe & Mary Beth Masci
Carol McCann
Michael & Gianine McCluskey
John & Deborah McDevitt
Alyssa McKeon
Derk & Heather Mitchell
Merrie Beth Moore & Richard Murphy
Charles & Lynne Morgan
James & Jennifer Mullins
Bradford & Jacqueline Myrick
Dorothea Navratil
Amy & Jim O'Brien
Susan O'Donnell
Ann & David Okeeffe
Derek & Ruth Owen
Dean & Elisa Owens
Sally & Wayne Patenaude
Courtney Peacock
Chris & Suellen Peluso
William Platt & Paula DelBonis Platt
Brentnal & Wendy Powell
Alissa & Brian Presti
Shirley Quinn
Nancy Raymond
John & Mary Reidy
Meghan Reynolds
Ari Richter
Molly Richter
Ted Roche & Laura White
Jack Ruderman & Amy Messer
Adrienne & William Russell
Elaine & Stephen Rust
Cynthia Salsbury
Paul & Beverley Sanborn
Elizabeth Sanders
Richard Sangillo
Suzie & Ken Sauer
Carol & Jeffry Schapira
Eilizabeth Sides
Mitchell Simon & Susan Covert
James & Iris Sindelar
William & Marion Sloboda
Thomas & Myra Slocum
Alan & Susan Sorensen
David Souter
Bill & Judy Stone
James & Amy Stone
Kurt & Elaine Swenson
Gloria P. Symonds
John Teahan
Gregory & Kathyrn Thesing
Robert Thomson & Lucy Hodder
Ken Traum & Catherine Heath
Michael & Catherine Trojano
Michael & Janet Ward
Susan & Don Ware
Terence & Mary Wardrop
Noreen & Edmund Waters
Donald & Rebecca Weaver
Robert & Binnie Wells
James Wheat
Shawne Wickham & Eric Waldman
Robert O. Wilson
Philip & Ronnie Wise
Daniel Zapton & Julie Voisin
Considering A Donation?
Please consider joining our businesses and civic groups and families with your tax-deductable donation.
Thank you for giving to our community
Thank You to All Our Neighbors
during our past winter seasons
We would like to thank you for your tax-deductible donations, your wood contributions, your volunteerism, and sharing our passion to help bring some measure of warmth to many who could become overwhelmed during our winter months. All of us know friends or relatives faced with unforeseen crises or events that turn their lives upside down. Additionally, keeping a loved one, an invalid family member, our children, ourselves and our pets minimally warm, both day and night during our brutal winter weather, can discourage even the most self-reliant.
We are all so fortunate to live in this small New Hampshire town. You, and so many friends, know that the warmth you provide for your neighbors today, will surely return ten-fold to you in the future. Our Fund will also work with our churches, our Town's Human Services Fuel Assistance Program and other organizations to wrap everyone in our warm, community quilt.
Thank you again for your kindness!
We are also proud and astonished at the number of men, women and youngsters (and a few dogs), who in November join us at the Sean Powers Wood Bank to prepare the wood donations for deliveries into the community.
Additionally, neighbors work hard that day creating stacks of cordwood to be accessed by anyone who might need some emergency wood to keep themselves and their family warm throughout the bitterest winter weather.
Again, any of us could need a boost, at any time. Many who have received wood in the past, come out in November to prepare the cords which will help other friends and neighbors.
Others in the community, in keeping an eye out for their neighbors, know who might need some help cutting, splitting or stacking wood. That neighborly eye also notices, in the coldest weather, whose chimney has no evidence of smoke….and steps in to leave a bundle.
This is Truly an Amazing Community.
See more pictures here.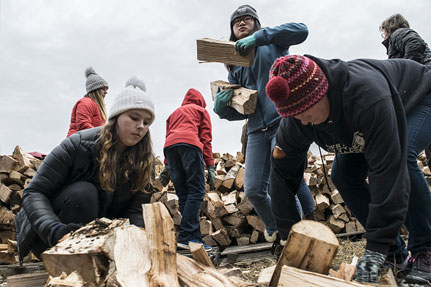 To Receive…
…a needed boost of fuel, or specifically, some firewood, call Mary at 568-2783 or if you feel more comfortable, you can call Hopkinton's Human Services or any of our five churches.
How can you help?
If you have some hardwood to donate….try to get the logs to lengths that can be thrown into the back of a pickup and ultimately taken to the wood bank. They do not need to be prepared for firewood lengths. For questions, call Mary at 568-2783.
www.woodforwarmth.org.
Keep a watchful eye out in your general neighborhood for those elderly, medically challenged or caregivers who are overburdened or overwhelmed. Is there smoke coming out of their chimney? Is there a path cleared from their door to their vehicle? Do they need an errand run? Are they able to stay warm in their house?
Thank you to All….for the Many Ways of Giving to Friends and Neighbors.